October 9th – 18th, 2018
by Gwen Burdick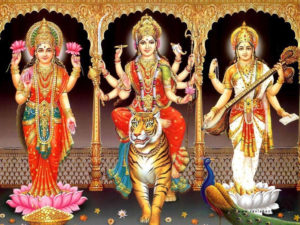 Navratri, a nine night-long celebration of the Divine Feminine, occurs every year on the New Moon in the Vedic month of Ashwin (usually our September, but not always) near the autumnal equinox. Worship of the Goddesses Durga, Lakshmi and Saraswati occur for three nights each. Prayers are performed, offerings are made and mantras are recited to honor and invoke the blessings of the Divine Mother.
The first three nights are devoted to Durga, which means "invincible" in Sanskrit. In Vedic energetics, Durga presides over the tamasic realm and annihilation. She is depicted fearlessly riding a lion and carrying weapons in her many hands. Her job is to destroy the darkness, ignorance and weakness that interferes with spiritual growth. She is responsible for the first step of the spiritual journey to remove fear, pain, suffering and confusion. The simplest mantra for Durga is: "Om Dum Durgayei Namaha."
For the next three nights Goddess Lakshmi is honored. Lakshmi means "goal" in Sanskrit and she governs the rajasic realm which allows for the enjoyment of worldly life. Shown with coins representing abundance, she assists in understanding the niyama of Santosha. At this point along the spiritual path, we can experience gratitude and appreciation for all we have received. The mantra for Lakshmi is "Om Shreem Mahalakshmiyei Namaha."
The final three nights are dedicated to Goddess Saraswati, which means "essence of Self" in Sanskrit, and her dominion is the sattvic realm. Saraswati carries a book, mala and lute. She oversees learning, knowledge, and the Arts for those who have been prepared. Only when we have passed through the first two stages can we be ready to access Saraswati's blessings and, as a result, use acquired knowledge and higher consciousness for the welfare of all. Her mantra is "Om Shri Saraswatiya Namaha."
On the following tenth auspicious day of revival of the feminine aspect of God, devotees recommit to their worldly duties and vocations and to their sadhana. As we enter the Fall season, might we notice how easy it is to see the qualities of the Goddesses in Mother Nature herself.