Parking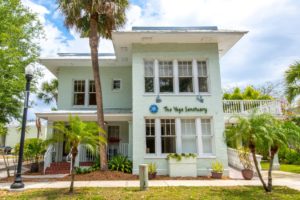 There is street parking available on our side of Sullivan Street as well as the large parking lot at the Charlotte Harbor Event Center on the corner.
Stay Connected and Give Us a Follow!
The Yoga Sanctuary
112 Sullivan Street
Punta Gorda, FL 33950
The Yoga Sanctuary is conveniently located in downtown Punta Gorda in the heart of the historic district, one block off of US 41 South, between W. Marion Avenue and Retta Esplanade. The studio is next door to the Punta Gorda Woman's Club.
E-mail: info@theyogasanctuary.biz
Phone: 941.505.YOGA (9642)
Lobby Hours: 8am – 1pm Monday, Wednesday, & Friday | 8 – 4 Tuesday, Thursday | 30 minutes before and after each class 7 days a week
Fill out the form below, and we'll get back to you within one business day. We can't wait to connect!