Retreat with The Yoga Sanctuary
A retreat is an invaluable tool we can use to take a break from the world of expectations and responsibilities, to focus inward, and recharge our spiritual batteries. Many types of retreats meet a wide variety of interests—writers' retreats, artists' retreats, spiritual retreats, walking retreats, silent retreats, and yoga retreats. The common element among all of these is this concept of "retreating" or stepping back from our day-to-day routines. At The Yoga Sanctuary we regularly offer retreats of all lengths from the simple (and local) day retreat to week-long adventures afar. Take a look below at what we have coming up. Feel free to reach out with any questions. We'd love to have you!
Stop & Smell the Flowers: A Yoga Day-Retreat at Peace River Botanical Gardens »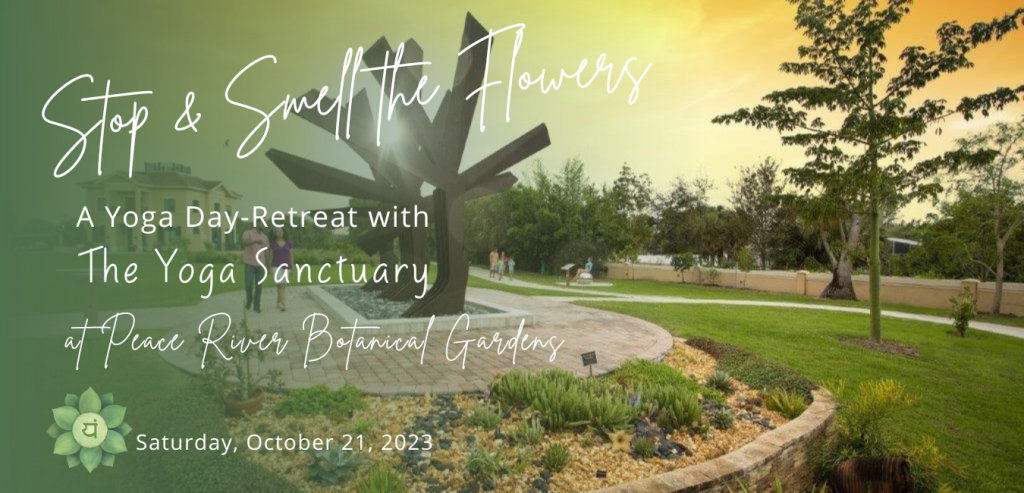 Pure Vida: Live Your Life Fully with The Yoga Sanctuary in Costa Rica »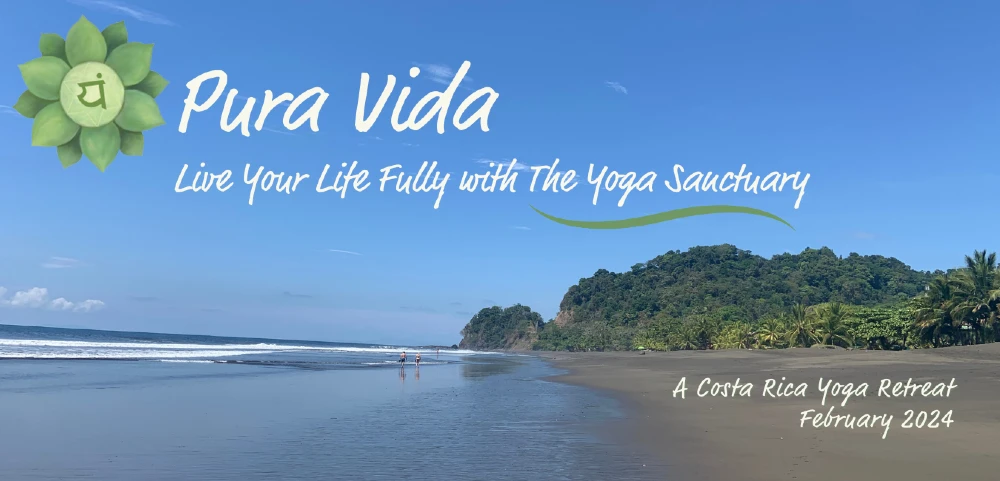 Retreat with The Yoga Sanctuary: Feathered Pipe Ranch, Montana 2024 »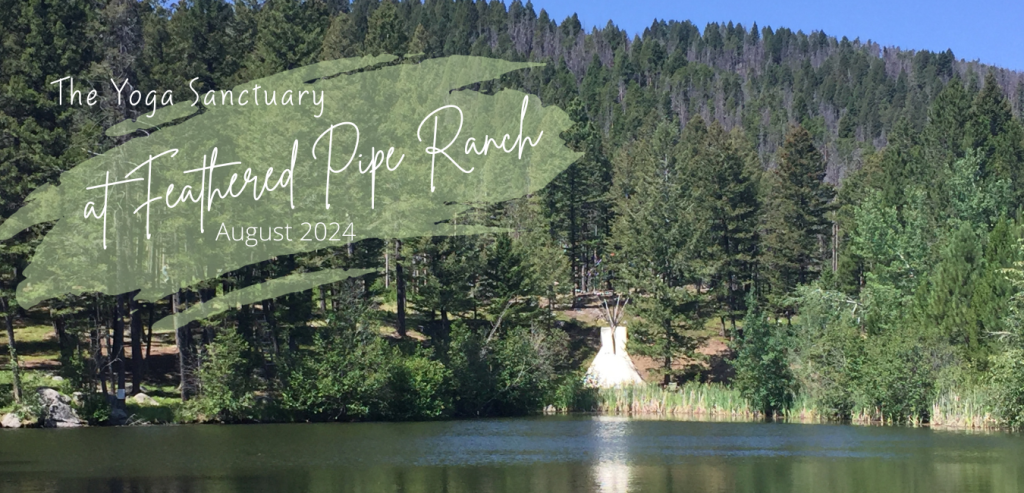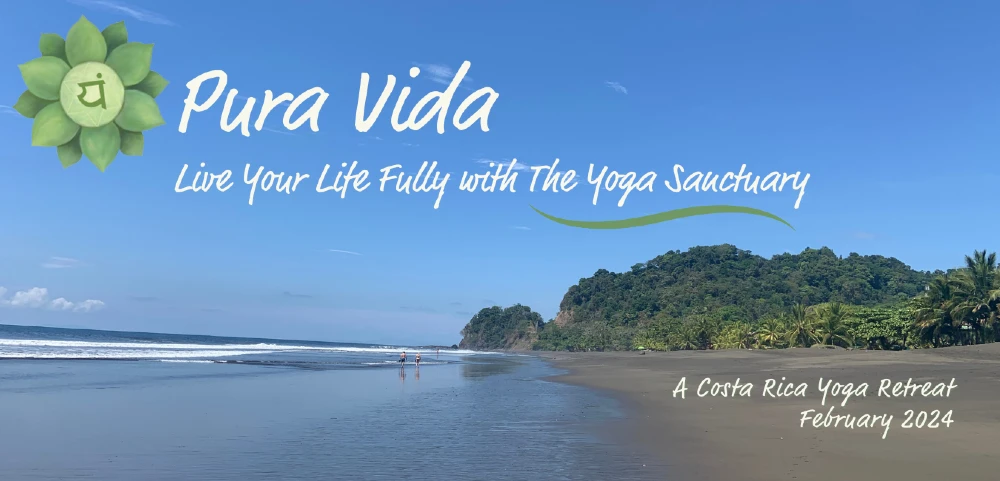 Join us February 25th – March 2nd, 2024 for this transformational experience.
Pura vida is a Spanish phrase often heard and used in Costa Rica and translates to pure or simple life. But more than that, it is a way of life embraced in Costa Rica. Pura vida implies living life to its very fullest. It is being present to—and grateful for—the simplest miracles that surround us every day.
During this retreat, you will have the opportunity to fully embrace the pura vida experience in the uncomplicated surroundings of the Vida Asana School of Yoga.
You will be led through classic and time-proven yoga practices that help cultivate a sense of gratitude and open your heart to all that life has to offer. You'll then explore how to take these practices into your daily life. Join us in the spirit of pura vida and learn how to pause, be present, and…​ Live Your Life Fully.
The Venue: Vida Asana Eco-Retreat and Yoga Center
Located on the Pacific side of Costa Rica, Vida Asana just 90-minutes from San Jose Airport. Situated between the lush tropical beauty of the jungle and the world-famous beaches of Playa Hermosa, this location provides easy access to a plethora of outdoor adventures, yet still offers a peaceful jungle setting for our retreat. Accommodations are simple yet comfortable, and all rooms are equipped with air conditioning, ceiling fans, private bathrooms, and hot water. Vida Asana has a beautiful pool, spacious sundeck, and restful hammocks tucked away throughout the property for quiet downtime during your retreat.
The Beach: Playa Hermosa
A 10-minute bicycle ride – available at Vida Asana – takes you to Playa Hermosa. In Spanish, Hermosa means beautiful, but there isn't much that isn't beautiful here in Costa Rica! This surprisingly quiet stretch of beach with blank sand and beautiful views of the jungle behind is well-known as a surfing destination. Choose to spend an afternoon taking a lesson or simply enjoy the cool breeze as you walk the beach looking for shells—and maybe even turtles—along the way. Part of the Refugio Nacional de Vida Silvestre Playa Hermosa, this beach is the protected home of the Olive Ridley Sea Turtle. Head south far enough and it will be just you and the gloriousness of the sand and sea around you.
The Food: Delicious
Each full day of your retreat includes breakfast, lunch, and dinner. The meals at Vida Asana are created with a healthy lifestyle as the inspiration. Every item is made from scratch using whole, and as often as possible, locally grown, organic ingredients—sometimes even using ingredients sourced directly from the property. Served buffet-style, you can take as much or as little as you need knowing that nothing will be going to waste. And if you find—which we think you will—the food is deliciosa, then you might consider bringing a Vida Asana cookbook home with you!
The Yoga Practice: Rejuvenating 
The heart of your retreat; each day includes a 30-minute morning meditation and three yoga classes (between 45 & 75-minutes long), one in the morning, one before dinner, and one in the evening. Held in the stunning surroundings of the jungle and on Vida Asana's beautiful yoga pavilion, these all-level classes are designed to quiet your mind and open your heart while creating the space to cultivate a sense of gratitude and joy for the small, but profound gifts of life. Additionally, there will be opportunities to take your practice deeper with limited one-on-one sessions available or self-practice times, as well as a mid-week extended workshop option. Included in your retreat is the option to participate in Vida Asana's daily community yoga class as well! Dive in, dive deep, and let your yoga sangha expand to include this little corner of the world…
Amazing Things to Do
Your retreat will be a time for going inward and reflecting. Each day you will be offered a journal prompt through quotes and poems to dive deeper and find joy in the simple things that life has to offer.  HOWEVER, if softly dozing off by the pool or in a hammock every afternoon is your retreat vision, there is a plethora of things to do in the area! You can book a massage, take a surf lesson, or simply enjoy the beach. Our hosts at Vida Asana offer concierge services to help guide you to find the activity that suits you best. Options include horseback riding, zip-lining, surfing, stand-up paddle boarding, bird watching, bike riding, hiking, and walking the hanging bridge in Rainmaker Conservation Project Park, just to name a FEW. There is so much to do and see—be sure to bring your binoculars!
Our Schedule: 
6:30 – 7am: Morning Meditation

7 – 7:30am: Break for Coffee & Tea

7:30 – 8:45am: Morning Yoga Practice

9:00am: breakfast

Breakfast time – 1pm: Open Time for YOU

limited private yoga sessions available
mid-week yoga workshop scheduled

1pm: LUNCH

Lunch time – 5: Open Time for YOU

5 – 6:15pm: Yoga Practice

6:30pm: DINNER

7:45 – 8:30pm: Evening Yoga
Please note: Our schedule is subject to change in the pura vida fashion 😊
Your Retreat Leader:
Jennifer French, E-RYT 500, YACEP, AYS
Jennifer, owner and director of The Yoga Sanctuary, has an adventurous spirit and integrated teaching style that encourages students to explore the subtleties of movement in a way that is gentle yet challenging – and always infused with humor. Registered with the National Yoga Alliance as an E-RYT 500, and YACEP (continuing education provider), she more than sixteen years and over ten thousand hours of yoga teaching experience working with all levels of students, from the very new student to training those that hope to become yoga teachers themselves. Jennifer remains always a student and continues to study with her primary teachers, Tias and Surya Little of Prajna Yoga in Santa Fe, New Mexico. Join Jennifer for TYS's fourth trip to Costa Rica!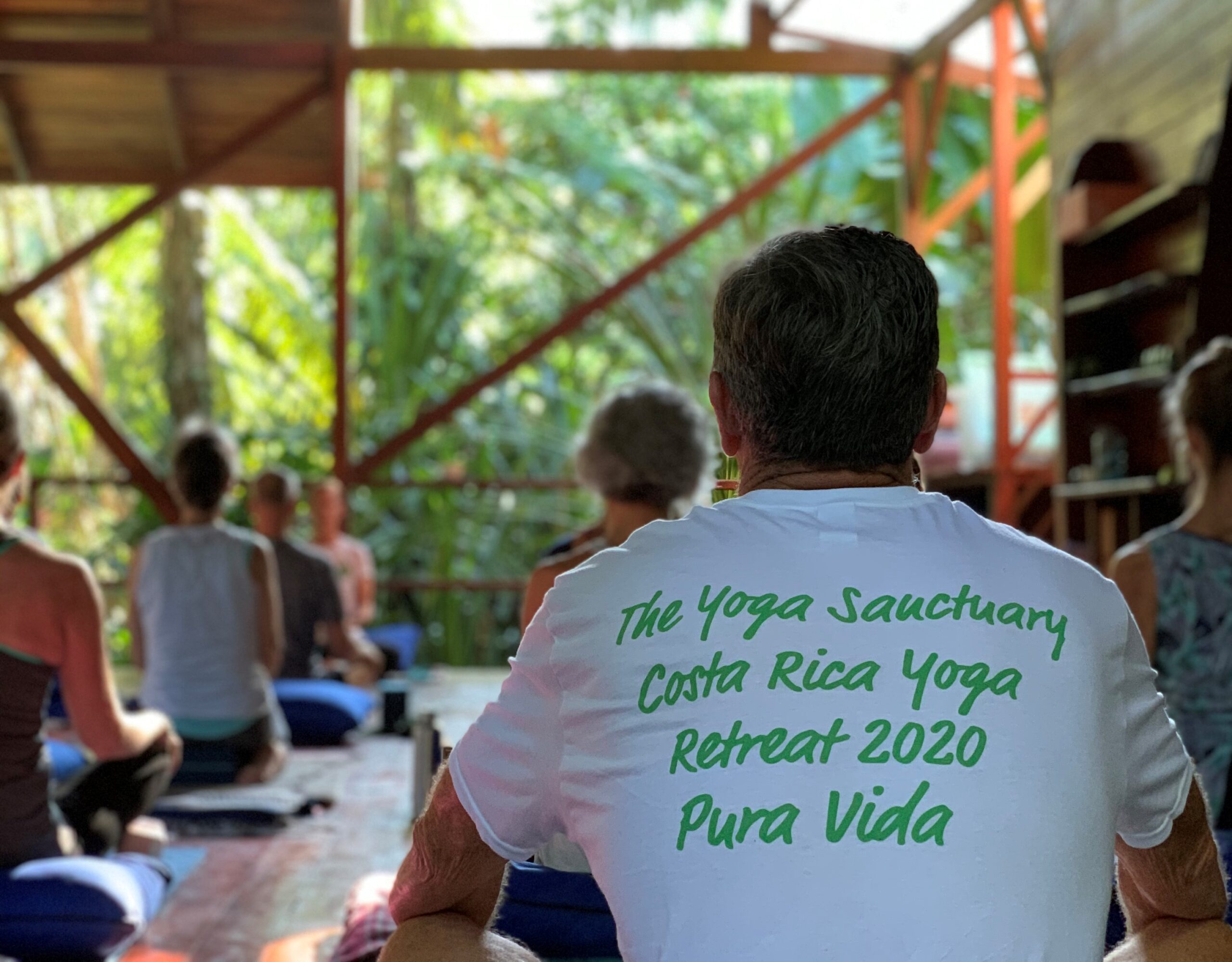 Your Investment:
Early Bird Registration: Shared Room: $1,750
Final Early Bird Payment is due by October 25, 2023
Regular Cost: Shared Room: $1,950
Final Regular Cost Payment is due by January 15, 2024
Limited single occupancy lodging available. Please EMAIL HERE for inquiries.
Deposit: $300 non-refundable deposit required to secure your spot.
What's included:
Shuttle service to and from Vida Asana and back again
6 nights lodging 
3 full healthy and fantastic meals a day for each full day on-site.

Dinner on arrival day
Breakfast on departure day

Daily fresh juices, coffee, and tea
3 daily yoga classes
1 daily meditation
1 mid-week yoga workshop
Access to second Yoga Platform for self-practice
Complimentary bicycle use
Mid-week dinner at a local beachfront restaurant
Sangria night (with non-alcoholic option) and local live music and artisan faire on location 
Access to a Retreat Participant ONLY Facebook Group to meet and learn more about the other participants on this journey with you!
What's not included:
Your round-trip airfare
Cost of additional excursions
Tips for service providers (drivers, spa services, venue staff)
Other non-included items are souvenir shopping, personal phone calls, massage, private yoga, other wellness services, and taxis
Personal, medical, or trip cancellation insurance. Please note that Trip Insurance is HIGHLY recommended.
The Fine Print (shared with love)
Cancellation Policy:
Deposits:
All deposits are 100% NON-REFUNDABLE. No exceptions.
Retreat payments:
If cancellation happens BEFORE October 28, 2023: full refund.
If cancellation happens BETWEEN October 28, 2023 and January 26, 2024: 50% refund.
If cancellation happens AFTER January 26, 2024: NO refunds.
Please note that these policies are firm and NO EXCEPTIONS will be made.
Pura Vida: Live Your Life Fully with The Yoga Sanctuary
February 25th – March 2nd, 2024

How to Get There:
You are traveling to Vida Asana, located in the Puntarenas Province, Jacó, Costa Rica.
Fly into San José, Costa Rica

Juan Santamaria International Airport
Code: SJO
If coming from Florida, there are direct flights out of Miami and Orlando

From San José, there will be a shuttle that will take you directly to Vida Asana!

To take advantage of the complimentary shuttle to and from the airport, please arrival by 1:30pm and depart no earlier than 12pm.

More information concerning shuttle time will be made available as the retreat nears.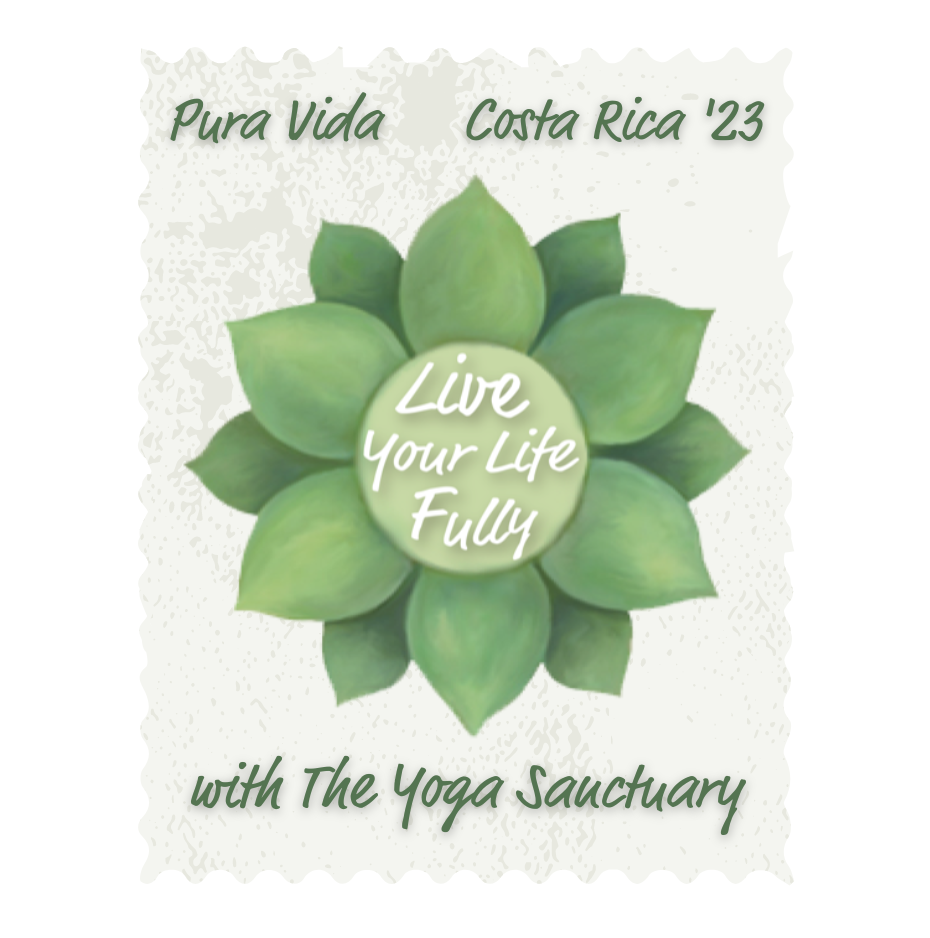 What to Bring:
Running shoes for light hikes or activities
Sandals and water shoes for beach and retreat center use
Day pack to carry water, snacks, and personal items to the beach or on tours
A swimsuit!
Sunscreen
Consider bringing a sun hat, sunglasses, and SPF clothing. Costa Rica is close to the equator. The sun is intense, and you will need protection.
Light long-sleeved sweater and light loose pants for the evenings
A rain shell and umbrella
Water bottle
Flashlight
Moisturizer (or aloe vera just in case you get sunburned)
Ear plugs. The sounds of the jungle are amazing and wonderful to sleep to, but if they are too much, you'll have earplugs to help.
Natural bug spray if you are sensitive to mosquitoes.
Binoculars!
US or CR currency for massages, tours, transportation, tips, incidentals, and more! Cash will almost always be your easiest option for paying for these things and it gives you the maximum options.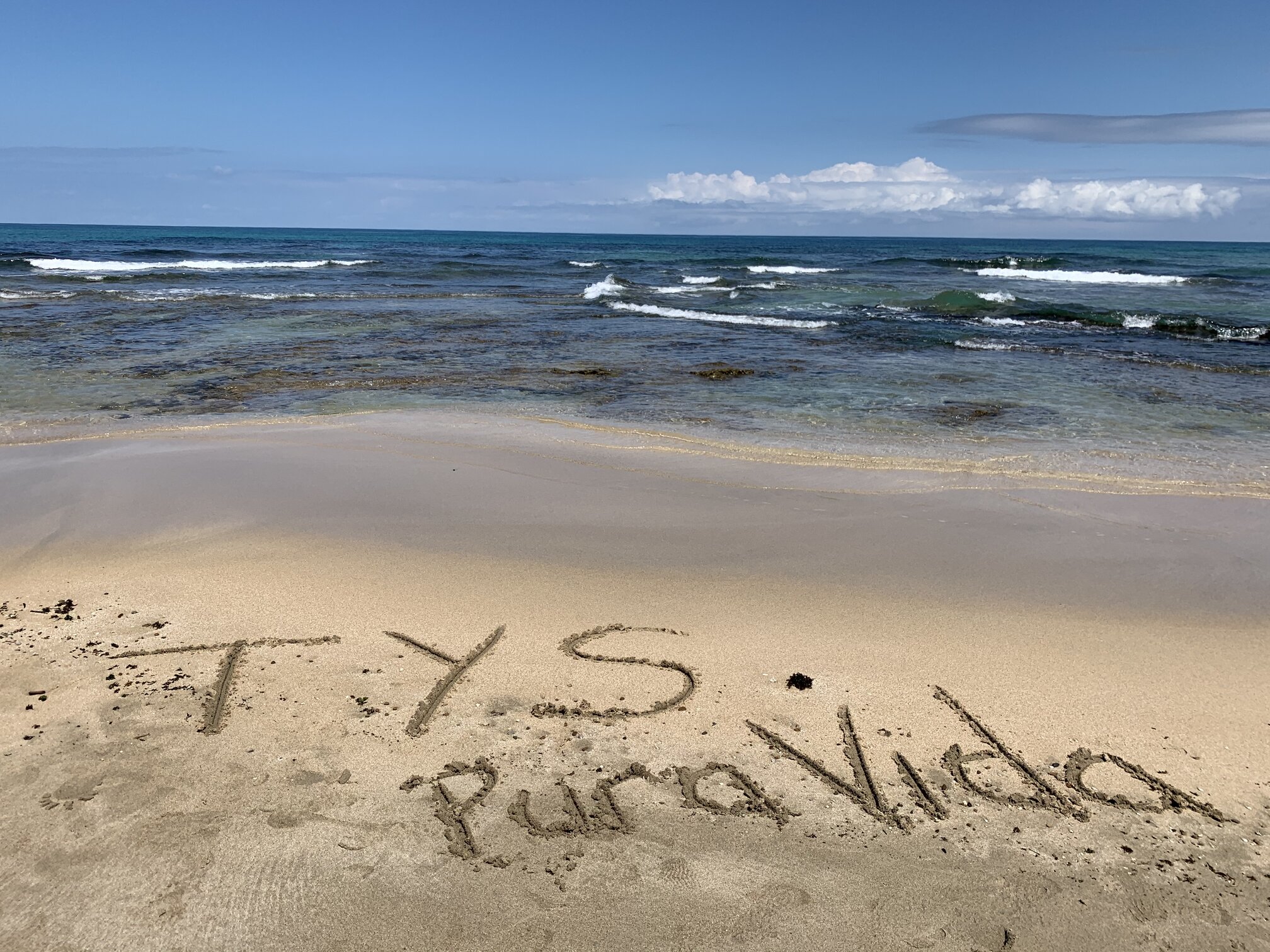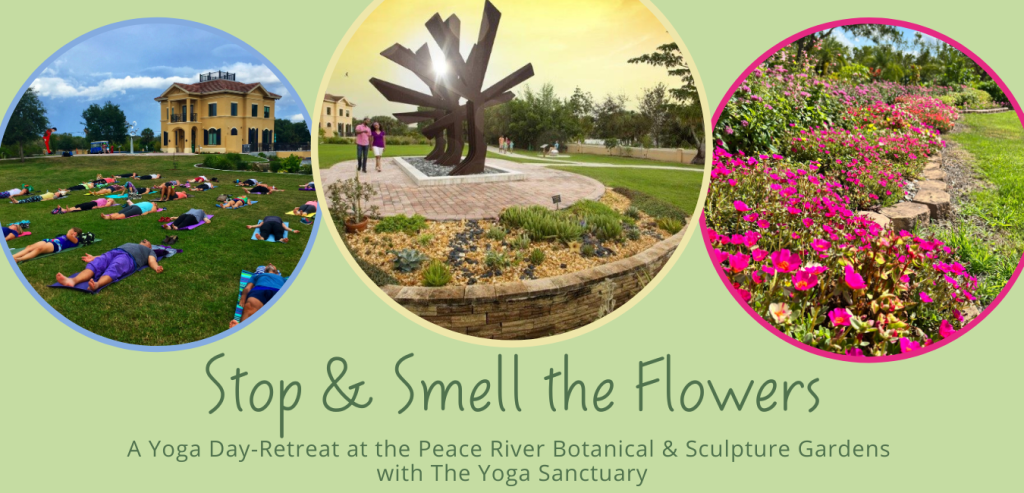 Join us on Saturday, October 21st from 9am – 3pm for this rejuvenating experience.
Sometimes in the day-to-day rush of life's routines and obligations, we can easily get caught up in the daily grind and forget to appreciate the simple joys of life. Time so easily rushes by, and we overlook the importance of taking care of ourselves—we forget the need to stop, pause, breathe, and smell the flowers. A retreat is a wonderful opportunity to step back from our daily routines; it allows us to find the time and space to focus inward, to reset, and then to reapproach life with a refreshed, relaxed, creative openness.
Join The Yoga Sanctuary for a day-long retreat of quiet tranquility in the Peace River Botanical & Sculpture Gardens. Your day will be filled with gentle movement both on and off the mat. Immerse yourself in the rejuvenating balm of nature, meditation, good food, and community—right here in Punta Gorda.
During this day-long retreat you will be led through time-honored yoga movement, breath, and meditation practices that all cultivate a sense of spaciousness and open-heartedness. Each practice is designed to fit together as a path back to the remembrance of who we are, reconnecting us to our essential self. Your day of retreat will leave you ready to move back into the world with renewed vigor, spontaneity, and a sense of equanimity in the face of whatever life offers. 
The Venue
Our day-retreat will be held at the lovely Peace River Botanical and Sculpture Gardens, located right in Punta Gorda, Florida. Much of our yoga practice will be held on the grass near the stunning Steel Palm sculpture. We will be sheltered from the sun by a full-size tent, allowing us to enjoy the space, the sounds, and the smells of this spectacular location.
The Food
Our lunch will be catered by one of our local and amazing catering services with a healthy and fresh menu designed specifically for our event. Our lunch will sure to be one of the many highlights of the day!
The Experience
You retreat experience will begin the moment you drive into the Gardens. You'll make your way down the short winding road to the parking area. You'll then take a brief walk along the pathway back towards Riverside Drive crossing over into the main Garden. Once in the main Garden, you will simply stroll over to our main tent space where you will be greeted by your retreat leader.
Schedule
9am: Welcome and Opening Ceremony
This time will include things to know for our day together, introductions, opening meditation, journaling, intention setting, and more.
10am: Heart Centered Yoga Practice & Meditation
Our first practice will be 90-minutes long and accessible for all levels of students. There will be movement combined with breath work, meditation, and relaxation. Familiarity with standing poses is recommended.
11:30am: Full catered lunch
12:30pm: Garden Tour
During this time, we will break off into smaller groups. Each group will have their own docent and will be given a full tour of the Gardens.
1:30pm: Heart Centered Yoga Practice & Meditation
Our second practice will be 60-minutes long. It will include a shorter movement practice, followed by a walking meditation that will include a short time for you to enjoy the grounds in solitude.
2:30pm: Closing Ceremony
Our closing ceremony will include time to integrate all that you have experienced throughout your day.
3pm: Retreat concludes
Feathered Pipe Ranch 2024
August 31 – September 7, 2024
Be sure to check back! More details are coming soon…