At The Yoga Sanctuary, we believe everyone deserves a moment of tranquility.  Tucked in the heart of Punta Gorda's historic district is a small 'sanctuary' where you can nurture body, mind, and spirit.
Our mission is to share our passion of yoga with the community by providing a warm, safe environment to develop the tools needed to incorporate yoga into everyday life. We offer the benefits of yoga to people of all ages and experience levels. At our studio, you'll find a full range of yoga classes, empowering year-round workshops, individualized programs and yoga supplies all designed to support a yogic lifestyle.
Whether you're interested in a yoga class, private instruction, meditation, or simply want to unwind with a fresh cup of organic tea, The Yoga Sanctuary is your destination to relax, refresh and rejuvenate.
In honoring ahimsa (non-violence), we are also committed to green practices that make our studio safe for the student, as well as the environment.
We serve all of Southwest Florida, including Charlotte County, North Port, and North Fort Myers.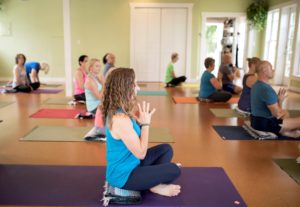 The Yoga Sanctuary Blog is where you can learn "all about yoga." With regular new posts about yoga postures, yoga philosophy, meditation, and ways to bring yoga into your daily life, you're sure to find the answers to your questions. Take your time to explore–and if you still have some lingering questions, let us know and maybe we'll post about it next!