Here at The Yoga Sanctuary, our mission is to share our passion of yoga with the community by providing a warm, safe environment to develop the tools needed to incorporate yoga into everyday life. With that always in mind, we have developed a number of ways to help you get started along your yoga journey. No matter if you have never taken a class before, are returning to the practice after a hiatus, or simply just new to The Yoga Sanctuary, we've got an option to help you get started! Take some time to read below. Afterwards, be sure to get in touch by simply filling out THIS FORM. We can't wait to meet you on the mat!
New to Yoga Package
To help make starting your yoga journey a little more comfortable, we've put together a package designed specifically for the New Yoga Student. This package includes a single one-on-one yoga session plus a 5-class package. In your one-on-one session, you will meet with a TYS teacher privately and discuss your needs and goals. Your teacher will then show you around the studio, pointing out all the things you need to know before your first group class. You will then be led through a short yoga practice. In this practice, your teacher will get an idea of what class levels and styles might suit your needs the best. Afterwards, your teacher will point out those classes on our schedule that might work best for you. Whether you are brand new to yoga or simply new to The Yoga Sanctuary, this is a great way to start your journey with us!
Included in the New to Yoga Package:
1 private yoga session: $75
5 class package: $80
Package cost:
New Student Unlimited Month Promotion
At The Yoga Sanctuary, we offer all of our NEW students an unlimited month of yoga for the deeply discounted rate of $59*. That's 50% off of our usual membership rate! This allows you to explore the days, times, and levels of classes that we offer as well as all of our amazing teachers, so that you can find just the right fit for you.
We're always available–and happy–to answer questions and help guide you in the direction that best meets your needs.
Please note… we keep this offer a bit secret–you won't find it under our usual pricing options. So just scroll down a bit and fill out the form to let us know you're interested and we'll get you set up and ready to go!
*Offer for full-time and seasonal (4 months +) residents only.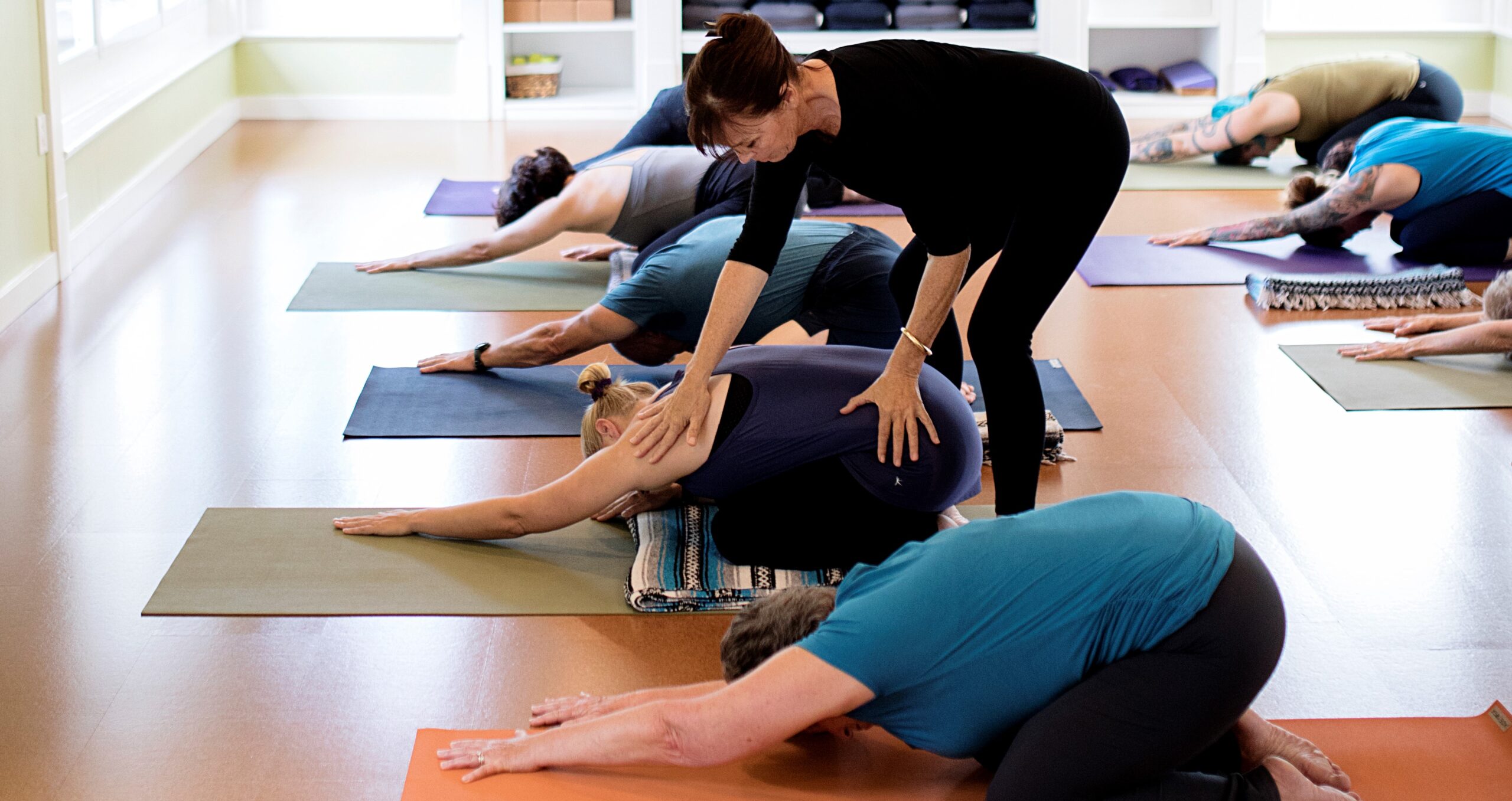 Introduction to Yoga: A 6-Week Beginners Series
Our Introduction to Yoga Series meets once a week for 6 weeks and builds progressively as you are walked through the basics of yoga.
We keep the class size limited to 8 people in order to give each participant individualized attention. This also allows plenty of time to ask all of the questions you might have. You will learn pose anatomy and alignment, the foundations of yoga philosophy, as well as ways to individualize your yoga practice for specific issues or injuries. You will also be given personalized guidance and support to help you to continue practicing yoga even after you finish the course.
Each participant receives a copy  of Yoga Fan: Practice Guide for Everyday and the opportunity to take advantage of our New Student Unlimited Month Promotion.
Check our schedule for our next series!
Feel free to reach out to us by filling out the form below. We will be in touch within one business day. We can't wait to connect and help you get started on your yoga journey!
What to Know for Your First Yoga Class
Being brand new at anything can be pretty scary and intimidating. There are so many questions around what to do or expect. This can be especially true about yoga. At The Yoga Sanctuary we think that the hardest part is simply walking through the door! After that, we've got you. We'll show you all you need to know and help guide you along the way. But until then, take a moment to read through the following tips. When you know a few basics about what to expect, you'll feel more comfortable when you do step through that door and into your first class! And don't forget about our New to Yoga Package designed specifically for the New Yoga Student.
Wear Comfortable Clothes that Are Not Too Loose
Most importantly, you will want to wear clothing that is comfortable. But be sure to not wear a shirt that is too loose. Know that you will be exploring yoga postures that might have you bending over in all different kinds of ways. So that big, comfy t-shirt you love? It won't feel as comfortable if it falls over your head when you are inverted in Downward Facing Dog Pose. A t-shirt is fine, as long as it has a tighter fit. You don't have to buy any special kind of "yoga clothes," that are sold everywhere these days, but you should wear something that will allow you to move comfortably and without wardrobe malfunction.
Barefoot Please
Yoga is practiced barefoot for a couple important reasons. When your feet are in direct contact with the ground you will be better able to truly feel how you are standing on your feet. You will notice where you place your weight, and you will be able find stability using the muscles of your feet. Socks are not recommended because you could slip during practice. Yoga mats are designed for bare feet and hands. As an example, if you are standing with your legs wide apart, in socks your feet would be more likely to slip outward, which could end with you in the splits or, more likely, with a pulled muscle.
Come with an Empty(ish) Stomach
It is best to practice yoga on an empty stomach. When the stomach is full, movements such as forward folds, twists, and inversions are not very comfortable. As a general rule, you can eat a snack or light meal two hours before class or a large meal four hours before class. That will ensure you are most comfortable during the practice. Drinking fluids before class, however, is recommended to keep you hydrated.
Turn Off All Devices
Or better yet, leave them (cell phones and smart watches) in the car. Your yoga practice is a time for you to focus just on yourself. When you walk into the studio, it's an opportunity to leave the stresses, demands, and responsibilities of life at the door. We ask that all cell phones are turned off and smart watches are silenced.
Let Go of Judgment
The other students in your class will likely have a range of abilities. You may find that you feel self-conscious or insecure about how you are doing the poses. You may feel that you "look like a fool" from time to time. Please know that the other students are much more focused on their own practice and are not nearly as preoccupied about you as you might think. We are much more likely to be judging our own practice than that of others. That too, however, must be released. Each day your practice will be different. The poses will feel slightly different, you will be in a different mental and emotional place, and your body will respond to the practice differently as time goes on. Instead of placing judgment on your practice, simply notice what is happening in the moment as well as over time, and leave it at that.
Yoga will always be Practice
This is one of the most comforting, yet often overlooked aspects of yoga. You may find that your competitive nature comes out during yoga practice, but please remember that there is no final competition, no presentation, no "perfect" pose. You are practicing, and will always be practicing, yoga. Let that notion help take the pressure off that you should be practicing in any particular way. Listen to the cues of your body, and just keep practicing.
We can't wait to meet you on the mat…