Live Your Life Fully
by Jennifer French and others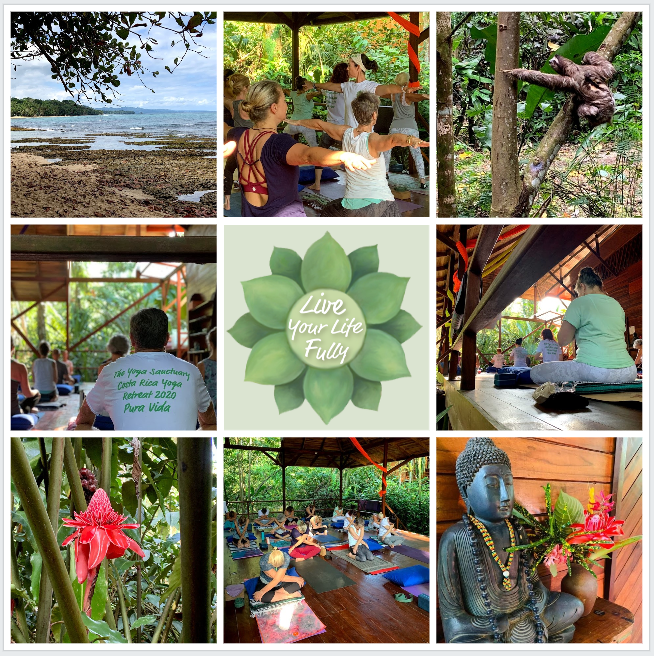 It's been just over three weeks since The Yoga Sanctuary returned from our first ever yoga retreat! Our adventure took us all the way to Costa Rica. We stayed just outside of a little town called Puerto Viejo de Talamanca on the Caribbean side of Costa Rica—only 40 miles from the border of Panama. Our home-away-from-home, Tierra de Sueños Retreat & Wellness Center, sits nestled in the heart of the jungle, yet only steps from the beach…
We named our week-long retreat: Pura Vida – Live Your Life Fully. Pura Vida is a Spanish phrase often heard and used in Costa Rica. It translates to pure or simple life. But more than that, it is a way of life embraced in Costa Rica and implies living life to its very fullest, being present to—and grateful for—the simple miracles that surround us every day. We heard this phrase used regularly, and it was interesting to learn all the different ways one simple saying can be applied from using it as a greeting or a goodbye to saying it when you see something wild and crazy happening in the street in front of you.
One of the goals or intentions of this retreat was to offer participants the opportunity to fully embrace the Pura Vida experience. In the uncomplicated surroundings of the Tierra de Sueños, participants were led through classic and time-proven yoga practices that help cultivate a sense of gratitude and openness of heart to all that life has to offer. Each morning began with a silent meditation practice on the Yoga Deck – a wide open and outdoor platform that we used daily for all of our practices. The Yoga Deck really allowed us to connect, not just inward, but with the sights, sounds, and life of the jungle around us. In fact, one afternoon as I was sneaking in my own yoga practice, I found myself sandwiched between the spirited playful undertakings of Howler Monkeys in the trees to my right and the slow mindful movement of a an exploring Sloth in the trees to my left, all the while catching sight of Hummingbirds in the trees directly in front of me!
Our morning meditation was followed by fresh juice and the most delicious coffee ever! Those that decided sleeping in was the order of the day, usually made their way to join the group at this time. We'd then head back over to the Yoga Deck for our 75-minute morning asana practice, designed to ease out the kinks from whatever adventures the day prior brought.
After morning practice, we had breakfast together. Oh, the breakfast! Such yummy, delicious, and fresh food! Breakfast is one of my favorite meals of the day and in truth, while I love it, I don't get it enough. Most mornings are a flurry of activity, preparing for the day, grabbing whatever is available to keep me satiated until lunch—or even dinner! It was a true luxury to have a fully prepared breakfast available each morning.
As breakfast came to a close, our group would start to find their way into their day's activities. Most days were filled with adventures. One of our first days included a group hike to a hidden jungle waterfall. I am told this was quite the challenge and really took people out of their comfort zones in the most amazing way! Other adventures included snorkeling, horseback riding, zip-lining, and even a night hike through the jungle. On the other end of the spectrum we had simple and easy days at the beach, a quiet morning bird watching walk, massages, and lots of time spent in hammocks. As we learned, the Pura Vida can meet you where ever you are.
Some of us came back together at the lodge for lunch midday. Others found themselves exploring local cuisine in the many eateries available within a short walk or tuk tuk ride away. This time of day usually felt quiet…some back from morning adventures, others still out at the local beach. Oh—the beaches!
They had their own names—Playa Chiquita, Punta Uva, Playa Negra. But in truth, once you crossed the street and made your way to the sand, you could turn left or right and just walk and walk and walk. The water was clear, beautiful, and just the right temperature. There were pockets of people and plenty of solitude. There were places to wade waist deep and pools to sit in. Not one image captures the beauty of what we could see with our eyes…
We would gather again back at the Yoga Deck for a late afternoon yoga practice. This practice built on the work explored in our morning session and was most definitely the most challenging of our day's yoga practice. Always with variations and options offered—many still found that they were stepping out of their comfort zone and took the challenge in stride (and surprise!) as they found their bodies open and capable of so much more than they thought!
Our late afternoon practice led us into dinner. While breakfast was my actual favorite food to eat, dinner was my favorite time to be with everyone. I loved hearing about what everyone's day brought, but even more, I loved sitting—with Margit—just slightly apart from our group and watching. I was able to watch as people formed new friendships and bonds. I watched as people laughed together and talked and shared. I watched as these new friends made plans. Sometimes those plans were for the next day, sometimes they were for the next week or month—after our return home. I watched connection happen, real connection. And my heart felt full.
Many would then make their way to the Yoga Deck for one final practice of the day. Our evening practice: quiet, mindful, meditative. This practice was intended to prepare one for rest. We would watch our breath, perhaps move our bodies just enough to connect more deeply to our breath. Then we would rest and soak in the experience—present, with open ears, open minds, open hearts—open to all that life has to offer.
A Note From Margit: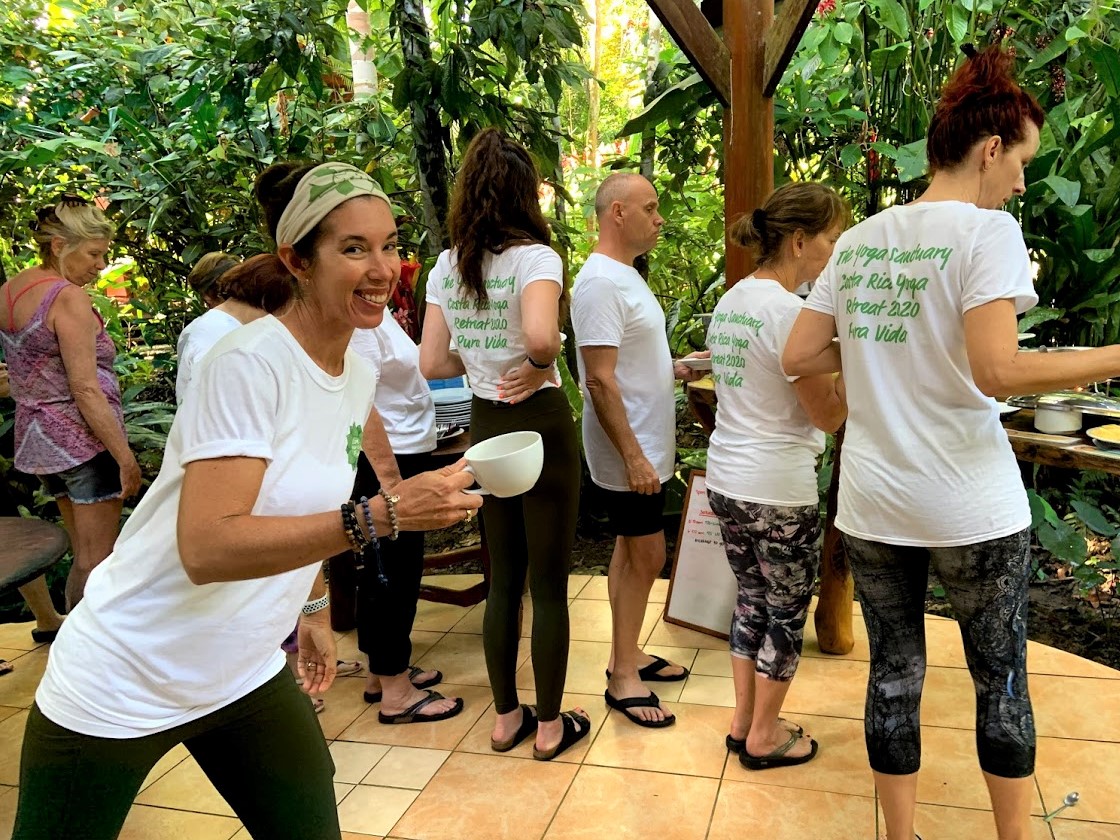 Being such a firm believer in "retreating" as I have done on my own for the past few years, it was wonderful to assist Jennifer and offer this unique experience to others.  Being away from the demands and responsibility of everyday life and work gives us the opportunity to explore other parts of ourselves that become neglected over time.  While on retreat we get a chance to connect with nature, commune with others and care for ourselves while choosing to rest and/or adventure.  In the end we ultimately learn that it might be possible to connect with these same ideals while on retreat right here at home.  No matter being on the giving or receiving end (teacher or student) while on retreat, I always find that I have changed in some way, my eyes have opened a bit more in how I see the world, and I can't help but think ahead to where "next time" might lead me!
Some Feedback from our Retreat Sangha:
[Jennifer] and Margit are amazing. I found that I can still push myself through a more challenging practice. I thought the time of day for the practices were perfect. The program content was perfect. …I will forever be grateful for the experience.  ~ Lynn W.
Jennifer and Margit made it feel like old home week for me. They were my first yoga teachers and taught me well. I felt I was able to fully participate with people who have continued their yoga practice at The Yoga Sanctuary. I especially enjoyed the morning class before breakfast and the evening class before dinner. …I loved the yoga classes that I participated in, I loved being unplugged from the news, I loved being makeup free and living the pure and simple life for a week. …I have spent 5 weeks on the Pacific side of Costa Rica, but was so much more impressed with the Caribbean side of the country. The beaches I went to were wonderful. ~ Donna A.
Lovely venue nestled into the jungle but steps from the beach! Surrounded by lush greenery, colorful flowering plants, exotic animals…. Feels far off the beaten path yet close to amenities! …Crafted with fresh quality ingredients, the food—mostly vegetarian for our group—was exquisitely prepared in plain view of us retreaters. Plentiful and delicious, with fresh coffee and tea always available, I never felt hungry! …Jennifer and Margit created a beautiful experience for this yoga retreat! Beginning with the morning sit and ending the day in quiet repose, each of the 4 per day practices were seamlessly integrated throughout the entire week. …When asked about my experience on this retreat, the most perfect answer was: Magical. I approached this trip with an open heart and mind, and no expectations. It was indeed a Magical experience. ~Wendy S.
I loved this – more than anyone will ever know. I think this retreat came at the right time in my life to spark some of the inner fire that was aching to get out! I have made some amazing friends, and intend to continue to reach out and be a part of this tribe. TYS feels like home, and this retreat brought the home to Costa Rica in the middle of the jungle. It was the most amazing experience for me to date – connecting with this family, and sharing what was the most amazing thing I've ever done for myself. Thank you TYS!! I don't know that I could ever thank you enough for allowing me to be a part of this retreat – I will hold these memories close to my heart forever 🙂  ~Jackie B.