Miguel and Nicole Dotres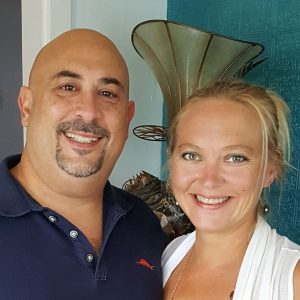 The Yoga Sanctuary: Can you  tell us a little about yourselves?
Miguel and Nicole Dotres: We have been married for 15 years and have 2 children.  We moved to Punta Gorda from Miami 3 years ago in an effort to find a great place to raise our kids.  Miguel is originally from Miami – a real life Florida native.  Nicole is originally from Texas.  We were fortunate enough to find each other in Florida and are grateful to have made Punta Gorda our permanent home.
TYS: When and why did you first start yoga?
M & N: Miguel had practiced yoga in the past and wanted to find a sanctuary in our new town.  Nicole was fairly new to yoga – having only taken an occasional class when she was pregnant.  Moving to Punta Gorda allowed Nicole to embark on a complete physical transformation as she had been struggling for her entire life with multiple health issues.  Starting yoga allowed her to manage many of the symptoms of her fibromyalgia and narcolepsy.  We joined The Yoga Sanctuary exactly 2 years ago, and have made it part of our life and daily routine.
TYS: What are the greatest benefits of practicing yoga?
Nicole:  Yoga introduced the idea of moderation, balance, and stability for mind and body – something that I definitely needed – and was clearly missing. While I find that I still push myself too hard – or navigate too easily to the extreme – I am learning everyday – and yoga has been essential to this development.
Miguel: The greatest benefit is having the ability to have a singular thought, a singular movement – provide the mind, the body and the soul – an extension of energy that comes from a place deep within the earth.  Having that connection for just a few moments of yoga practice fills every part of my body with joy.
TYS: How has the yoga practice changed your health and life? Have you found any emotional or other benefits?
Nicole: I now focus on practicing patience with myself and my body. While I still have pains and physical limitations, my effort is to listen to my body without judgement andto find ways to help the body, mind, and spirit as a whole. I am learning to allow my body to yell and scream at me – listen – and then move on. Unlike the past where I would try to fight back – Insisting that I had to be a certain way or able to do certain things – now my approach is to be accepting of what I can do today – and allowing myself to be happy with that.
Miguel: By practicing yoga, I am able to bring balance to my every day.  I feel stronger and am able to enjoy coaching my kids in soccer and even teaching yoga to them on the field.
TYS: What is the best thing about sharing the yoga practice together? 
M & N: Finding a place in our lives where we can be together while still growing individually.  We simply love being together and encouraging each other.
TYS: What is your favorite yoga pose and why?
Nicole:  Tree Pose.  This pose was very difficult for me at first and something that I set as a challenge to myself to be able to do.  I worked at it every day until I was able to do it well –  which made me proud.   At the same time, it is a pose that reminds me that every day is a new and different day, and that when my mind is out of balance, my body is too.
Miguel: Mountain Pose.  For me mountain pose represents the beauty found in the silence of growing things.  While it may appear a simple pose – the focus to me is to bring the mind and the body in balance while absorbing the energy of the earth through the roots of our feet.
TYS: Do you have a favorite book or quote that you would like to share?
Nicole: Wherever you go – there you are…
Miguel: Infinite spirit, open the way for divine design of my life to manifest; let the genius within me now be released; let me see clearly the perfect plan.