Join Us on the Journey!
The Yoga Sanctuary's – 30 Day – Yoga Month Journey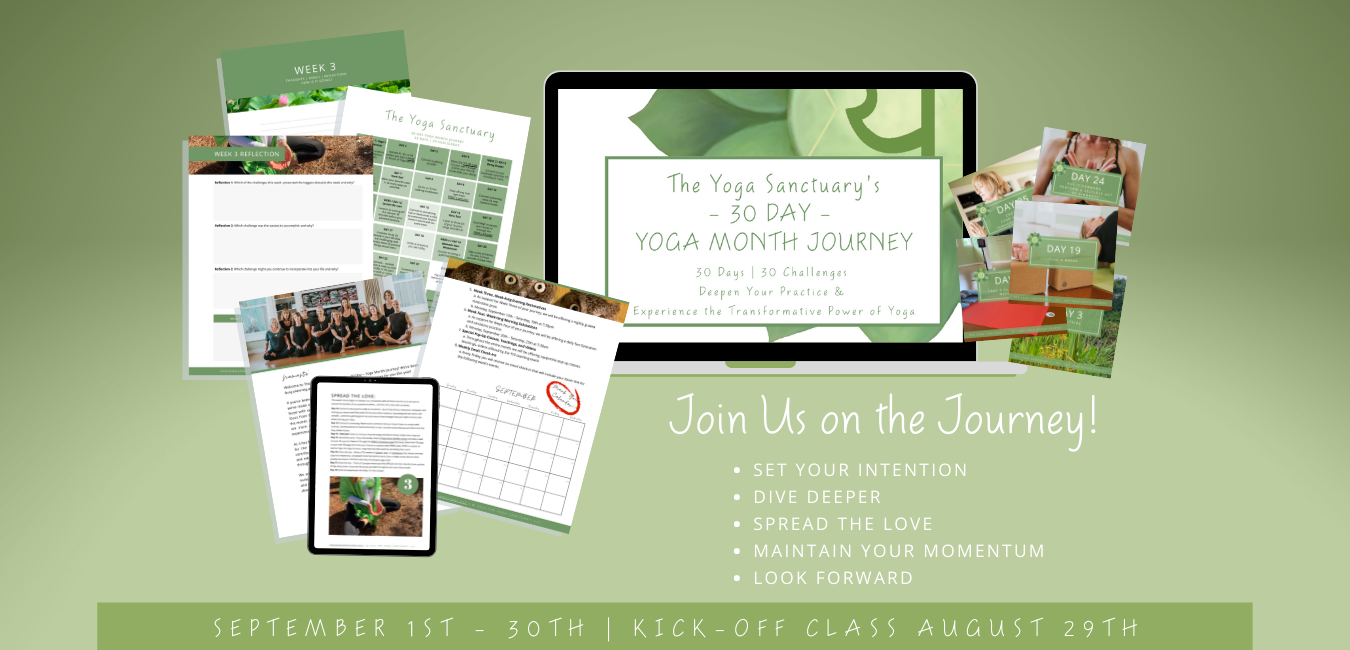 September is National Yoga Month and The Yoga Sanctuary is celebrating! During National Yoga Month, designated by the Department of Health & Human Services, festivities happen in all kinds of ways across the country. Hundreds of studios, teachers, and students join in. Come celebrate with The Yoga Sanctuary and participate in The Yoga Sanctuary's 30-Day Yoga Month Journey of challenges to discover the transformational power of a consistent yoga practice both on and off the mat.
If you've been part of our Yoga Month Celebrations in the past, you'll notice that we've made a small but important change… After all of the challenges we've been faced with over the past year and a half, we've decided to shift our Yoga Month focus from the "challenge" to the journey that we'll all be on together throughout the month. Oh, to be sure, it is still 30 days with 30 challenges! But these challenges are more invitations for you to explore, practices that will help deepen your experience on your mat, in your life, and in the world.
As it has been since our first Celebration, this year's Yoga Month Journey is a benefit for the Peace River Wildlife Center, a local organization whose mission is to contribute to the survival of native Florida wildlife through rescue, rehabilitation, and education. So, you'll see a few ways to contribute to their mission sprinkled throughout the month.
We are so excited to be on this Journey with you and can't wait to share all that we are offering. We'll be inviting you to dive deep and to explore your practice in many ways. We'll be inviting you to reflect, to reach out, and connect with others along the way.
Your Journey
Each day you will be presented with a challenge. This could be a one-time challenge, something that you might have to plan for, or something that you might try to integrate into the full month and then into your life beyond the journey. You'll begin by setting your personal intentions for the month and you'll be guided and supported all along the way. The goal is to experience the transformational power of a consistent yoga practice both on and off the mat, as well as to form a deeper connection with yourself and others.
In the Sunday, August 29th Kick-Off Class, we'll explore all that the program includes. Plus you'll be led through an all levels yoga practice!
Program includes:
Yoga Month Journey Printable Workbook
Yoga Month Kick Off Class on Sunday, August 29th at 12pm (Only class open to non-participants)
Private Facebook Group community for all participants
Day One LIVE Zoom Check in on Wednesday, September 1st at 8:00am
Beginning-of-the-Week LIVE meditation and check-in every Sunday in September at 8:00am
Week-long LIVE Morning Meditation Series: Monday, September 6th – Saturday, September 11th at 7:30am. This will be a 20-minute session that includes a minimum of 10 minutes of meditation.
Week-long LIVE Evening Restorative Series: Monday, September 13th – Saturday, September 18th at 7:30pm. This will be a 20-minute session that will include set-up and guidance through a minimum of 1 – 2 restorative postures.
Week-long LIVE Morning Salutations Series: Monday, September 20th – Saturday, September 25th at 7:30am. This will be a 20-minute session that will guide you through variations of the Sun Salutation.
Special Pop-up Classes, Teachings, and Videos
Weekly email check-ins every Friday.
Can't make all the dates or times?? Don't worry!
All sessions will be held on Zoom, recorded, and shared in the Private Facebook Group for you to watch and re-watch at your convenience!
Program cost:
$108
* Since some of your daily challenges include the possibility of increasing your regular TYS yoga class participation, be sure to take advantage of our Special Unlimited Month Membership cost of $98. Those with 5 or 10 class packages can put their packages on hold to do so. Please note that at the end of Yoga Month, our single month-long unlimited class pass rate will return to its pre-pandemic rate of $119.