Celebrate Yoga Month 2019 with our THIRD annual game of
Yoga Month BINGO!
Benefiting the Peace River Wildlife Center (PRWC)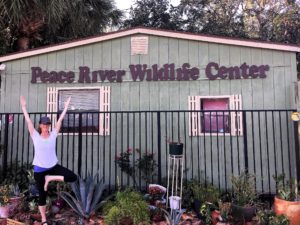 September is National Yoga Month! During National Yoga Month, designated by the Department of Health & Human Services, festivities occur across the country. Hundreds of studios, teachers, and students join in.
Celebrate with The Yoga Sanctuary and discover the transformational power of a consistent yoga practice. Participate in our month-long game of YOGA BINGO and see the difference this consistency of practice makes for yourself! In addition to feeling stronger, more relaxed, and less stressed, you will also be supporting the Peace River Wildlife Center (PRWC).
Our August 29th Community Class at PRWC kicks off the Bingo game. This donation based class is open to everyone – bingo players or not! The Bingo game culminates with a Grand Bingo Raffle Prize with the winner announced on Wednesday, October 2nd.
See you on the mat and in the world!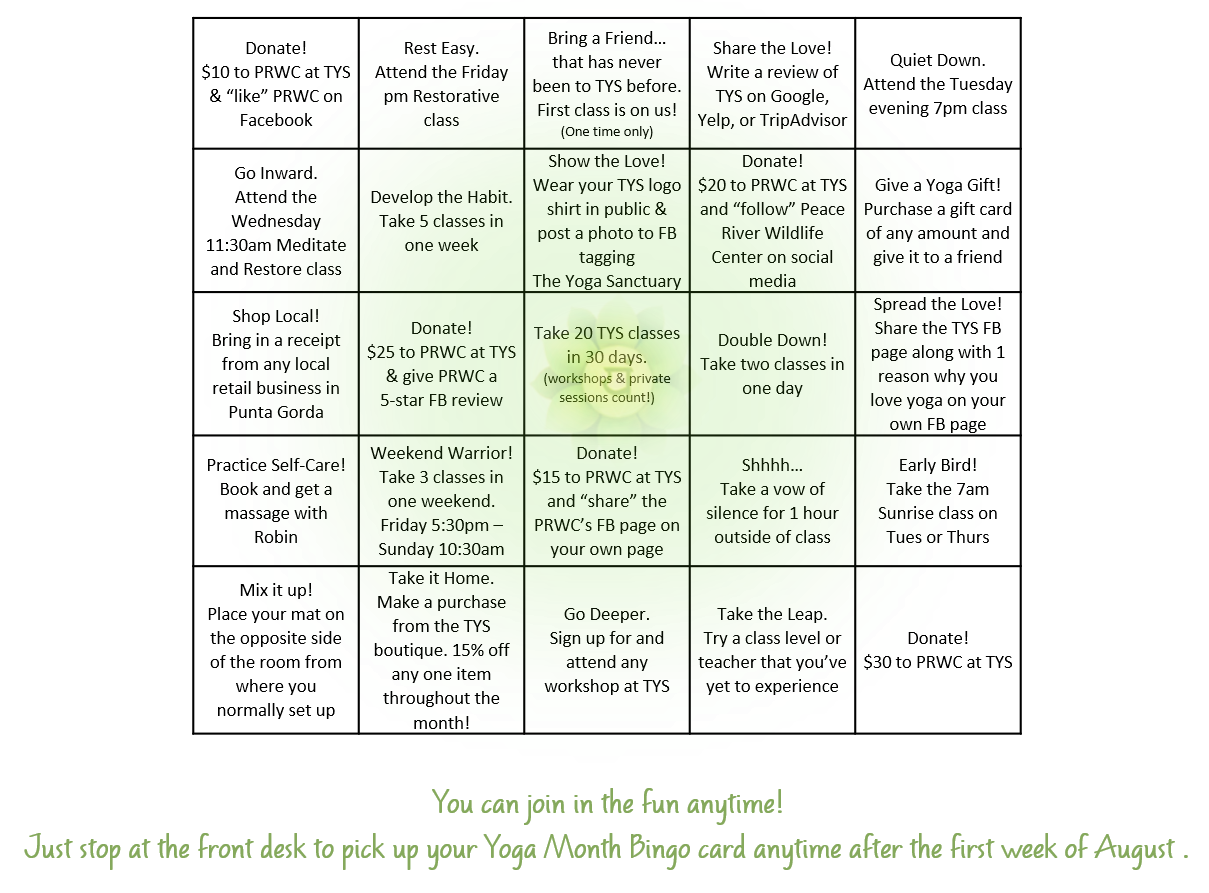 How To Play:
Pick up your Yoga Month Bingo board and complimentary guest pass at the front desk.

One Bingo board per game per person kept at studio, one take home board for reference.

To participate in the Center Square 20 classes in 30 days challenge, put your class pack on hold and take advantage of the monthly membership fee of $98! Just let any TYS teacher know that you'd like to take advantage of this great deal!
Complete the challenge in the square and verify it with any TYS staff teacher.

They will then give you the bingo marker to mark your in-studio board!

A completed bingo row can be horizontal, vertical, or diagonal.
Square challenges must be completed during Yoga Month (August 29th – September 30th)
Each Bingo board with a win will receive a congratulatory gift and an entry into the Yoga Month Bingo Grand Prize Raffle valued at $150.

For each row completed, you will have an additional chance to win the Grand Prize. A full board gets 12 entries!

All bingo cards must be handed in with PRWC donations by 12pm on October 1st to be entered into the "Yoga Month Bingo!" raffle prize.
Raffle winner will be chosen on Wednesday, October 2nd.