200-hour Yoga Alliance ® Teacher Training Program
December 2020 – April 2021
"If you want to learn something, read about it.
If you want to understand something, write about it.
If you want to master something, teach it."
– Yogi Bhajan
Do you want to take your yoga practice to the next level? Does the idea of sharing the yoga practice with others as a teacher intrigue you? Are you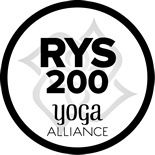 interested in learning more about the philosophy behind the practice? TYS Teacher Training offers a unique, integrated approach to studying, practicing, and teaching yoga. Through this training you will develop a deep foundation of yoga philosophy, anatomy, and asana. As you cultivate your own practice, you will gain the tools needed for teaching a safe and fun yoga class all while gaining a better understanding of yourself along the way. TYS Teacher Training is ideal for aspiring teachers, health practitioners, and students who want to simply deepen their practice and study of yoga.
You will have the unique opportunity to study with leading guest teachers, such as Kristin Leal (MetaAnatomy), Dr. Carrie Demers (Ayurveda), , and Tias Little (Anatomy, Philosophy, Asana) who are specialists in their fields. In addition, you will receive business coaching, practical teaching experience, and mentoring from lead teacher, Jennifer French, as well as other TYS teachers and past TT graduates.
Upon completion of this program, you will have a deeper understanding and mastery of your home practice, and be fully confident and capable to teach yoga, if that is your goal. You will also qualify to register as an instructor with the internationally-recognized Yoga Alliance.
"I had been practicing yoga for over 30 years when I decided to take the teacher training program at The Yoga Sanctuary.  Was it challenging?  OMG – YES!  Perhaps the challenge of my life.  A LOT of work – physical and mental.  Did I ever want to quit?  Absolutely not.  This was a gift to myself – a gift that keeps on giving. Yes, I can teach if I choose to, although I have found the most gratification in being able to help people get past their initial resistance to yoga – letting them know what to expect, how to choose a teacher, how to respect their own place in their process.  I love that.  The yogic philosophy is very much aligned with my own, so there is great comfort in that.  And, one of the best benefits are the friends I made – fellow challenged people, who accompanied me on my own journey.  The teacher training program is one of the best things I've ever done and I am so grateful to have done it at The Yoga Sanctuary – there is no better place!"
Curriculum
• Yoga Philosophy, Ethics & Lifestyle
• Anatomy & Physiology—both physical and subtle
• Theory & Practice of Asana, Pranayama & Meditation
• Ayurveda—The Sister Science of Yoga
• Teaching Methodology
• Teaching Practicums: The Art of Teaching and Sequencing
Prerequisites
Please have at least one year of consistent yoga practice. Advanced asana practice is not required; a full commitment to the program is. To apply, submit a completed Teacher Training application(.pdf). You will be contacted to schedule an interview with the program director. All students of yoga are encouraged to apply, regardless of physical ability or limitations.
Schedule
TYS Teacher Training is spread over five months to accommodate those who work a standard full-time schedule, seasonal residents, and students with other obligations. We meet every Wednesday and every other weekend (Friday, Saturday, and Sunday). Your dedication and 100% participation is required for the program. In addition to the scheduled meeting times, you will complete individual and group homework projects, observe and participate in several weekly group classes, contribute Karma Yoga hours, and develop a home practice.
Times: Wednesdays: 5:30 – 8:30pm; Fridays: 5:30 – 8:30pm; Saturdays: 10:00am – 6:00pm; Sundays: 1:00pm – 6:00pm
Dates: Because of the intensity and in-depth nature of our program, it is only offered every other year. Our next session begins in December of 2020. 
Dates and times may be subject to change.
"The Yoga Sanctuary's Teacher Training Program was an unbelievable, life-changing experience! Of course, I learned about Yoga's deeper impact on the body and the mind, the rich tradition from which Yoga emerged, and how to both safely teach and pronounce the postures in Sanskrit. However, there were other unexpected gifts. After completing the 200-hour program, I felt so much more confidence. I experienced strength while learning about gentleness. And, I met some amazing people…teachers and classmates."
Faculty & Guest Teachers
The Yoga Sanctuary Teacher Training Program is directed by Jennifer French, owner of The Yoga Sanctuary and Yoga Alliance Registered Instructor (E-RYT) with over ten years of teaching experience. The faculty also includes local RYT Yoga Instructors and world-renowned guest instructors to offer students one of the best Training Programs in Southwest Florida.
Kristin Leal — MetaAnatomy
Kristin's teachings are infused with the miracle of the human body and the liberating potential of movement. She is the creator of the Kaya Yoga 200 and 300-hour teacher training – graduating over 1,000 students since 2005 – and leads workshops around the world. In love with how esoteric anatomy links so effortlessly to Western anatomy, her MetaAnatomy™ trainings blend serious scientific knowledge with a sense of humor and a deep connection to the divine within us all. Since 2006 she has been working with Yogiraj Alan Finger of ISHTA yoga and has helped this yogi master translate his teachings to create his 300- hour and ISHTA marma point teacher training. A licensed massage therapist since 1995 (Swedish Institute of Massage,) she also holds certifications in Reiki, Thai massage, neuromuscular and myofascial release, and is a co-author of the book "The Yoga Fan" (2003) and the author of MetaAnatomy™ (2014). Learn more about Kristin here.
Dr. Carrie Demers – Ayurveda
As the Director of the Himalayan Institute Total Health Center, Dr. Carrie Demers M.D., lectures nationally on Ayurveda and holistic health. Board-certified in Internal Medicine, Dr. Demers is a holistic physician who blends modern medicine with traditional approaches to health. After receiving her medical degree from the University of Cincinnati and completing her residency at Michael Reese Hospital in Chicago, Dr. Demers went on to study massage, homeopathy, nutrition, herbal medicine, Yoga and Ayurveda. Widely recognized for her expertise in holistic health, Dr. Demers has been quoted in Time magazine, and is a frequent contributor to Yoga International magazine.
Tias Little — Anatomy, Philosophy, Asana
Tias synthesizes years of study in classical yoga, Sanskrit, Buddhist studies, anatomy, massage, and trauma healing. Thus his teaching brings together precision of alignment, anatomical detail and a profound meditative experience. Tias is a licensed massage therapist and his somatic studies include in‐depth training in cranial‐sacral therapy. His practice and teaching is influenced by the work of Ida Rolf, Moshe Feldenkrais and Thomas Hanna. Tias is a long time student of the meditative arts and Buddhist studies beginning with Vipassana and continuing in Tibetan Buddhism and Zen. His teaching style is unique in being able to weave together poetic metaphor with clear instruction filled with compassion and humor. Tias earned a Masters degree in Eastern Philosophy from St. John's College Santa Fe in 1998. He lives in Santa Fe, New Mexico where he directs his school Prajna Yoga with his wife Surya and is author of three books, The Thread of Breath, Meditations on a Dewdrop and The Yoga of the Subtle Body.
Tuition
One of the greatest benefits of participating in The Yoga Sanctuary Teacher Training Program is FREE unlimited classes! Your tuition also includes 20% off all workshops led by TYS instructors, all books required for the program, and all other retail items. Enjoy your unlimited classes and savings once your registration is paid in full.
Early Registration: 
Standard Registration: 
Payment Plan: 
PLEASE NOTE: ALL PRICING WILL BE UPDATED BY DECEMBER 2019. CHECK BACK FOR DETAILS. 

Please contact jennifer@theyogasanctuary.biz for any additional information.
"Wholeheartedly I feel that TYS TT program instilled in me the best of what Yoga is. The program is exemplary, I recommend it to anyone who is in search of delving deeper into the practice of Yoga. Jennifer French is without a doubt a magnificent and honest Yogi. It was an honor to learn from her….. I am so blessed and forever grateful that my training was at TYS. I feel confident teaching students all that I have learned from my own years of practice and what I learned in TT."
"My yoga practice started in 2008 and I began taking classes and workshops at The Yoga Sanctuary in 2010. As time went on I realized I wanted to learn as much as I could from the teachers in a studio I called home. The best way for me to accomplish this was to attend teacher training at TYS, which I did in 2012/2013. It was the best thing I've ever done for myself. I'm grateful for all I have learned and continue to learn. Although I don't teach, I did this for my own knowledge and growth. At some point I may decide to teach. Anyone that is considering the teacher training at TYS, I could not recommend a better studio and teachers."